Welcome to Georgeann Waggaman Fine Art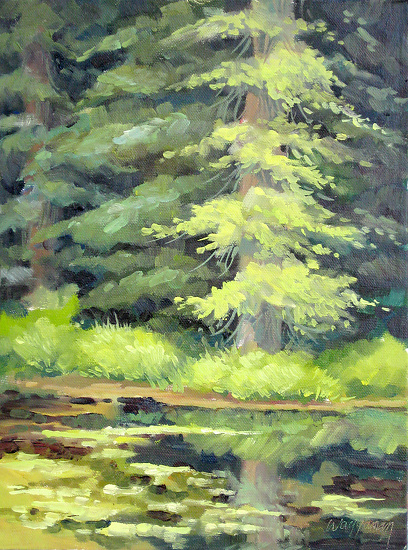 Welcome. Living in the Rocky Mountains, every season overwhelms with breathtaking beauty. I try to capture what I see in paint, in so doing, the scene remains forever in my mind and heart. While most of my images are of Colorado, you will discover a variety of subjects in my portfolio section.
This summer I have been focusing on plein air oils. I hate having to drag 30 pounds of gear around but I love the nuances of color one can achieve with oils trying to match the feeling of what you see. The painting here is one of my most recent. It shows an old pond covered with scum and a single tree catching the light, hardly seen by anyone who walks by, but a surprisingly lovely scene when one takes the time to really look. That's the fun of painting outside, surprising even myself and then sharing the surprise with others.
After landscapes, my next favorite subject is old classic cars, preferably shiny with lots of reflections, my architectural background helps me to capture them in perspective. I do them in oils and watercolor. When winter comes I will be back in my studio with my cars and trucks. I like to paint them on location but they have a tendency to drive away so they make better studio subjects.
You will find a variey of cars and trucks under VEHICLES and many more of my latest paintings in NEW WORKS.
Paintings range in price from $350 - $1600.
Price varies by size, medium and framing. Notecards, prints and giclees
are available of many paintings. Please contact me regarding prices,
availability, information or just to say hello.